Disability Access Statement
The Parkway Hotel & Spa is accessible for a wide range of disabilities & our staff are on hand to ensure all guests are catered & cared for.
The main span of the hotel is on ground level, from the time you are dropped off under our covered canopy with sloped pavements to our Coffee Shop, Restaurant, large Reception Area, Function Rooms & accessible Bedrooms.
Prior to arrival, upon booking, the reception team are fully trained in dealing with all types of disability & any notes required are made on your booking ready for our Front Desk team to help you upon Check In.
The hotel can be contacted by telephone, email, Fax & Social Media.
This access statement is available to view on this website & in the hotel in large print.
Should you require your booking confirmation in large print, please request this upon enquiring/booking.
Upon arrival, you can be dropped off under the covered canopy with no raised kerbs, ensuring your arrival into the hotel is safe & dry. Luggage assistance is available 24 hours a day.
With complimentary car parking for over 400 cars & full accessible disabled bays close to the hotel, you can ensure your arrival is a stress free one.
Upon check in there are low level comfortable chairs & tables to check in from.
The ground floor bedroom area is fully accessible for wheelchairs & is well lit with sensor lighting. Disabled access rooms are available on the ground floor & close to reception. We also have a disabled suite with a wet room, grab bars, emergency pull, low level basins, wide doorways & sliding doors. All of our suites are fully accessible via a lift. There is a number of different lighting options in the bedrooms to suit all needs.
There are tea & coffee making facilities in all rooms along with TV's with remote control.
All our hotel rooms are en suite. The majority have shower over bath.The disabled rooms are lowered & have a suite complete with wet room.
In the public areas, we have a disabled toilet available.
Our Restaurant has high tables & chairs with or without arms. Tables of different heights are available on request.
All dietary requirements are fully catered for, with menus listing allergen information. Notice is preferable but not essential.
All Conference & Meeting Rooms are fully accessible & are on ground level.
Any of our guests who are hard of hearing are also noted for the Night Porter in the event of a fire. The Night Porter/Duty Manager will enter the room & give help to all who require it. The evacuation procedure is displayed in the bedrooms & is explained upon check in if required. In the event of an evacuation, the Duty Manager alerts all guests in the bedrooms.
Assistance dogs are permitted in the bedrooms & in the hotel grounds to exercise.
We provide complimentary WIFI in all areas with excellent mobile coverage.
There are staff on hand day & night to provide any assistance required.
We hope you enjoy your stay at the Parkway Hotel & Spa.
Group & Individual accommodation Bookings
Terms & Conditions
1.             How do I make a reservation?
You can make a reservation for a group booking by simply returning this document, signed where indicated. If you wish to make any special arrangements or special requests, please do not hesitate to contact our Reservationist, who will be glad to help.
            What is included in the amounts charged for my reservation? How should I pay?
All prices charged to you are VAT inclusive.  We will provide you with a detailed invoice, so you know what items you are paying for.  We accept most credit/debit cards, but if you wish to use our credit facilities, then please make this aware before confirming your booking.  Please note that unless you have been granted credit facilities, overdue amounts shall accure interest from the due date at 1.5% per month
Can I amend the number of guests attending?
No problem, as long as you give the hotel adequate notice of the change.  Please note however that our cancellation policy will apply if the umber of guests decreases significantly (i.e by more than 5%).  In the event that you have additional guests, we will do our up most to offer them the same service we offer to your other guests. However the price of your reservation will then be increased.
Can I cancel my reservation?
A cancellation of your reservation would result in a considerable loss for the hotel, should you need to cancel your booking, please refer to the following cancellation terms:
If I cancel:                                                                                               My Cancellation charge will be:
1-3 months prior to the scheduled booking for the group                100% of the amount of my reservation          
6 weeks prior to arrival for Individual bookings 1-5 rooms             0 charge
Individual Bookings = 12 noon day prior – free cancellation
5.             Can we cancel your reservation?
In the unlikely event that the hotel needs to cancel your reservation, we will immediately refund you any advance payment you may have made.  We will only cancel your reservation if any of the following events occur:
a)        The hotel is closed due to fire, order of public authority or by any other cause outside of our control
b)       The reputation of the hotel may be damaged by the reservation or disturb other hotel guests
c)        The person or entity making the reservation is declared bankrupt
Once you have been refunded for the cancelled booking, the hotel will have no further liability regarding your reservation.
Can I bring my own food?
It is not permitted to bring food or beverages onto the hotel premises. The hotel provides a lounge bar and restaurant to purchase food and beverage.
Who's liable in case something goes wrong?
Our rule is: If you break or damage our property then you or your company are liable for costs. Therefore, a pre authorisation is taken from every guest on check in to cover any possible damages.  The amount is returned to the guest providing no damage has been caused.  We shall only be liable to you and to the persons staying within the hotel for injury to persons, loss or damage to property due to our negligence.  Similarly, we shall hold you liable for any loss or damage to our property and for injury to persons including staff and guests arising out of the negligence of your attendants of your reservation.
Thank you for taking the time to read our terms and conditions.  We have tried to keep them as simple as possible.    Should you have any further questions, please do not hesitate to contact me, or any other member of staff who will be happy to assist you.
Jane Jones
Reservations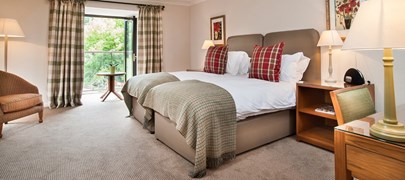 Staying with us?