Food... with a Passion...
At present our Restaurant is closed Monday to Wednesday
Our Head Chef is passionate & refreshing in his outlook on food. He cares about his menus reflecting the seasons & changes in taste, quality & appearance
Recently awarded our 2nd AA Rosette for culinary excellence, Clive Williams, takes personal pride in every menu he is creating, from the Coffee Shop & Bar Menu to Banqueting & A la Carte, he knows what he is talking about. Please note at present, we aren't running our a la Carte menu
The dining experience also changes with us seasonally. Whether you are having a Coffee Shop lunch in front of our real log fire in the Winter or enjoying the evening Summer Sun in Ravellos Courtyard, we know these experiences make a wealth of difference
A friendly & enthusiastic welcome always awaits you at the hotel which is renowned in the locality for its high standards of food, service and accommodation
We have a number of dining options with food is served throughout the day in a great, relaxing & comfortable environment. We pride ourselves on that personal touch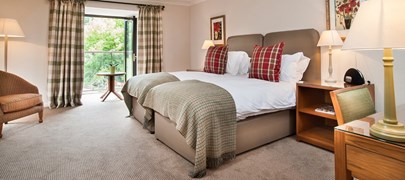 Staying with us?